Welcome to The Ponyland PurplePages!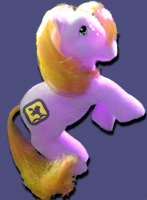 Pone & Princess Butterbear, have turned the "Pony Collectors Album" into the Ponyland Purplepages. Sorta like the yellow pages, but Purple of course!

Here you will find pony collectors info, along with any pictures that they have included. It is free to join, and everyone (who is a part of the online MLP community) is welcome to join! All you need to do is drop us an email at ponylandpurplepages@hotmail.com.

Credit: We would like to thank Stormwing at Ready for Rainbows: http://www.geocities.com/kajikan/main.html for her little pony icons she has made.